By Larry Baum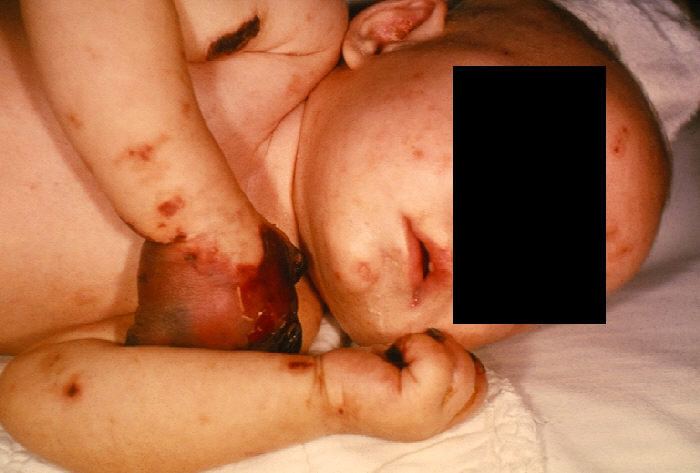 Baby girl with meningitis
Source: CDC/ Mr. Gust
It was a year of major changes in health care, and not just the U.S. health care reform. Breakthroughs in new treatments and setbacks in policy will affect millions of lives. The international humanitarian medical aid organization Doctors Without Borders/Médecins Sans Frontières (MSF) released a year-end list of Ten Stories That Mattered in Access to Medicines in 2010.
On the positive front, a new and effective meningitis vaccine, developed specifically for Africa, began use in 2010. Epidemics of meningitis A sweep across southern and central Africa every decade or so, killing some within one to two days and leaving at least one out of ten survivors with permanent brain damage or hearing loss. The 2009 outbreak killed over 5000. To break the back of epidemics required a more effective vaccine that could protect people for longer than current vaccines and could protect children as young as one year old, yet would be cheap enough to affordably vaccinate millions of children. The World Health Organization (WHO), PATH, and the Bill and Melinda Gates Foundation developed the new vaccine, which is manufactured by the Serum Institute of India at a price of only $0.50 per dose. Clinical trials starting in 2005 showed that it is safe and effective.
"With a one-time investment to vaccinate populations in all countries of the meningitis belt, nearly 150,000 young lives could be saved by 2015, and epidemic meningitis could become a thing of the past," said Dr Margaret Chan, WHO Director-General. "This is within reach. We must not fail."
The vaccine was introduced in Burkina Faso on December 6, 2010. To cover all 25 countries of the meningitis belt, WHO estimates a need to raise an additional $475 million. A widespread vaccination program would not only save lives, but is expected to free up more than $120 million in local healthcare spending through 2015, money which can instead go toward other urgent health needs.
Another advance is clinical trial results showing that artesunate, a derivative of a drug extracted from a Chinese plant, is safe and more effective for both adults and children with severe malaria than the centuries-old treatment of choice, quinine. But countries and funding organizations have yet to translate the findings into widespread practice.
As important as improved treatment is better diagnosis. A faster test for tuberculosis, a disease that kills two million annually, became available in 2010 to replace the very insensitive current test, developed 130-year years ago, which can take up to three months.
Setbacks were largely a matter of political priorities. Funding for measles vaccination has declined in recent years although the $1 cost per vaccination makes it one of the best bargains in public health. The result has been a rise in outbreaks, killing 160,000 in 2008.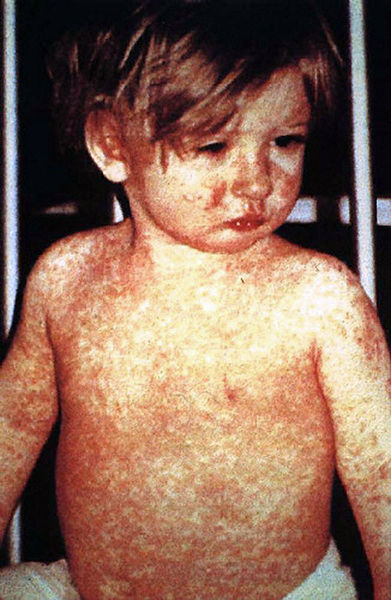 A child with measles
Source: CDC/NIP/Barbara Rice
Similarly, funding for HIV/AIDS treatment has leveled off, leaving millions untreated.
Indian drug manufacturers have become low-cost suppliers for much of the developing world. But pressures by developed countries and their pharmaceutical industries to enforce patent protection for their drugs is attempting to push back on the competition in rules contained in a proposed free trade agreement between the European Union and India. Similarly, some African countries are considering passing laws that ostensibly aim to fight counterfeit drugs but have the additional effect of restricting cheap generic drugs, protecting the investment in research and development made by pharmaceutical companies but raising drug prices for consumers.
How was this story's length set?
---