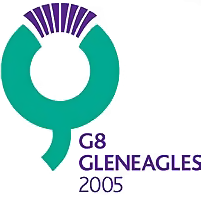 Crown Copyright
G8 Gleneagles Summit logo
British Prime Minister Tony Blair met some but not all of the major anti-poverty goals he had set for the 31st G8 summit in Gleneagles, Scotland in early July. Among the decisions made was a commitment to another $48 billion per year by 2010 in aid which Blair says can indeed, in time and if properly seen through, make "very substantial progress" towards "making poverty history". The deal was secured following a last-minute commitment by Japan.
Half of this aid will be sent to Africa. Some analysts have raised fears that African economies will not be able to absorb so much aid so quickly, and that the money could fuel corruption.
Only $20 billion per year of this deal is new money; the rest has already been pledged on previous occasions. The US, Germany, and Italy rejected a plan by Blair to double aid immediately by borrowing against future aid budgets.
"It isn't the end of poverty in Africa, but it is the hope that it can be ended," Blair said. "It isn't all everyone wanted, but it is progress--real and achievable progress. It is the definitive expression of our collective will to act in the face of death and disease and conflict that is preventable."
There will also be further pushes towards ending the debt of the poorest nations, but the G8 summit only confirmed an earlier deal to cancel the debts of 18 countries.
Campaigners have welcomed the news, but have said that it does not go far enough, falling short of the hopes of the people who had embraced the Live 8 and Make Poverty History drives.
"Today the G8 have chosen not to do all that campaigners insist is necessary to free people trapped in the prison of poverty," read a statement by Make Poverty History. "But more action is urgently needed if they are to play their role in bringing about real change for the world's poorest people."
The leaders also pledged to end farm subsidies, but did not say by when. However, they called for talks on trade liberalization to reach a conclusion by the end of 2006. That would be too late for the next major World Trade Organization meeting, set for late 2005 in Hong Kong.
How was this story's length set?
---
How was this story's length set?
---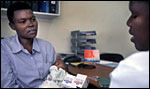 copyright: WHO/Michael Jensen
More people are receiving HIV drugs
The number of people receiving combination antiretroviral therapy (ART) for HIV/AIDS in developing countries is increasing significantly–more than doubling from 400,000 in December 2003 to about one million in June 2005–according to the World Health Organization (WHO) and the Joint United Nations Programme on HIV/AIDS (UNAIDS). However, access to HIV treatment continues to fall short of the growing need, and overall progress is unlikely to be fast enough to reach the target set by WHO and UNAIDS of treating three million people by the end of 2005.
The number of people receiving ART is increasing in every region of the world, and the rate of scale-up is also accelerating. In sub-Saharan Africa, the region most severely affected by HIV, half a million people now get ART–more than triple the number of people in June 2004, and nearly double the number in January 2005. Similarly, in Asia--the second most affected region--the number of people with access to ART has tripled since June 2004 to about 155,000. More than half of this increase occurred in the first six months of this year.
"This is the first time that complex therapy for a chronic condition has been introduced at anything approaching this scale in the developing world," said WHO Director-General Dr. Lee Jong-wook.
"It is imperative that we continue to speed up access to life-saving HIV treatment, not only as a means of treating the millions in need today, but also as a tool to help prevent millions of additional infections," said UNAIDS Executive Director Dr Peter Piot, explaining that "the availability of treatment increases the number of people who access key prevention services, such as testing and counseling."
To increase access to AIDS treatment, WHO/UNAIDS recommends the following: