By Larry Baum
In 1970, the United Nations suggested that countries donate 0.7% of national income as international development aid. For a third of a century, few countries met that goal. But in May, the 15 richest European states pledged to double such aid to poor nations over five years, reaching 0.51% of income, an increase of $26 billion in annual funding.
The pledges are an effort to meet the Millenium Development goal to halve the number of people living in extreme poverty by 2015. So far, only four EU countries–Luxembourg, Denmark, the Netherlands, and Sweden–achieve the 0.7% target. Five others–Belgium, Finland, Spain, the UK, and France–promise to achieve the target by certain dates.
UK finance minister Gordon Brown applauded the aid agreement, saying "huge progress" was made but that it was now important to assemble all the world's wealthy countries to sign up to a single plan. He hoped the plan could be agreed when Britain chaired the Group of 8 (G8) summit on July 6 in Gleneagles, Scotland. Mr Brown said, "What we have seen is all 25 European Union countries–the poorest and the richest–coming together to promise that aid, which was 40 billion dollars last year, will be 80 billion dollars by 2010. So Europe is saying it will double aid. It is putting that money to health and education and particularly into Africa." He said he was sure America would support efforts to increase the amount of aid going to the developing world.
To secure American participation, UK prime minister Tony Blair met US president George W. Bush on June 7. The US has increased development aid in recent years, particularly for AIDS drug treatment, although spending is still well below the 0.7% level. The two leaders discussed a plan to cut the $39 billion in annual debt repayments made by 60-plus poor countries by about 1%. The plan would concentrate debt relief in the 18 countries that had already received relief from bilateral (country-to-country) debt as a result of the Jubilee 2000 campaign. The proposal would cut their payments to the IMF, the World Bank, and the African Development Bank by 50-100%, or 0.5-1 billion dollars per year.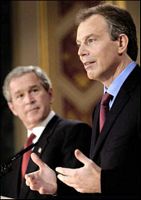 President Bush and Prime Minister Blair
Bush, however, did not agree to Blair's proposal to double aid to Africa, telling a reporter that "whether or not the formula that you commented upon are the right way to analyze the United States commitment to her, I don't think it is. I mean, I don't think–there's a lot of things that aren't counted in our desire to spread compassion." He added, "I think one of things that many African nations have come to discover is that through trade, they can develop a more hopeful society rather than through aid. I mean, aid helps, but we passed what's called AGOA–the African Growth and Opportunity Act–and have extended it. It passed during President Clinton's period; my administration extended it with Congress, and it's made an enormous difference to young economies."
Blair, perhaps attempting to shift focus from his failure to obtain a US aid increase, said, "it's not just about resources. It's also about debt; it's about trade; it's about making sure that we deal with these diseases–HIV/AIDS, malaria, TB, polio–that are killing so many people. It's about conflict resolution and having the proper peacekeeping and peace enforcement mechanisms."
(Continued on next column)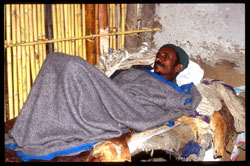 copyright: WHO/P. Virot
Malaria patient in Ethiopia
Japan's aid to Africa was once the second-largest among industrialized countries, but has fallen 60% since 1997, to a half billion dollars per year. Prime Minister Junichiro Koizumi announced at an Asia-Africa summit meeting in Indonesia in April that Japan would double aid to Africa in the coming three years, bringing 2008 aid levels almost to what they had been 11 years before. The new aid would emphasize industrial development and training.
It remains uncertain whether Europe will keep its promises to raise development spending. Brown's proposed funding mechanism is the international finance facility (IFF), a "live now, pay later" scheme that would sell bonds to pay for aid now and repay the bonds later using money from rich countries, in effect partly reversing the current debt relation between rich and poor regions. But Germany and the US in particular do not support the scheme, making IFF's approval iffy.
Another funding idea from the UK is to sell gold owned by the International Monetary Fund. Canada suggested that rich nations pick up the principal payments on some of the debt. The US proposed converting international loans to Africa into grants. France and Japan suggested taxes on international financial transactions or on jet fuel. A tax on airplane tickets was opposed by Austria, the Netherlands, and holiday destinations Italy and Greece, as well as airlines.
Any agreement will likely be announced at the G8 summit in July. In advance of that meeting, "Live8" rock concerts will be held in London, Edinburgh, Paris, Berlin, Rome, and Philadelphia on July 2. Those concerts, two decades after the highly successful Live Aid shows for Ethiopia, are aimed simply at raising awareness for African issues and grassroots political support for long-term development assistance.
The lead organizer, Bob Geldof, says, "This is without doubt a moment in history where ordinary people can grasp the chance to achieve something truly monumental and demand from the 8 world leaders at G8 an end to poverty. The G8 leaders have it within their power to alter history. They will only have the will to do so if tens of thousands of people show them that enough is enough."
Celebrities including singer Bono, model Claudia Schiffer, and actors Brad Pitt and George Clooney, are also using their fame to draw attention to an e-mail and letter-writing campaign, the Global Call to Action Against Poverty, urging the world's wealthy nations to cooperate in raising aid, reducing Africa's debt, and easing trade restrictions.
How was this story's length set?
---
By Larry Baum