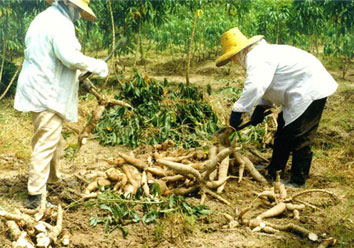 Cassava farming, one research area supported by the initiative.
On June 27, the Grand Challenges in Global Health Initiative distributed nearly $450 million to research projects which aim to prevent, treat and cure diseases and other health problems in developing countries. The funding, averaging $10 million per project, supports research teams working to combat the 14 major scientific challenges identified by the Gates Foundation and the National Institutes of Health in 2003.
The call for proposals--which drew over 1,500 applications from 70 countries--aimed to encourage the most qualified researchers from the private sector, universities and the biotech industry to find ways to improve the health of the world's poorest people. The 43 recipients can patent their inventions but must agree to make them available to poor countries for free or at affordable cost. At present, vaccines and treatment exist for many deadly diseases such as malaria and AIDS, but they are too expensive for people in developing countries. Millions of people in Africa, Asia and Latin America die of preventable diseases every year.
"It's shocking how little research is directed toward the diseases of the world's poorest countries," said Bill Gates, co-founder of the Gates Foundation. "By harnessing the world's capacity for scientific innovation, I believe we can transform health in the developing world and save millions of lives."
The grants awarded are intended to fund projects like Dr. Richard Sayre's, which aims to produce a more nutritious strain of cassava, a staple crop for more than 250 million people in Africa. Cassava is low in vitamins and can be toxic if not prepared correctly, but Sayre plans to change that through genetic engineering. Because many of the projects are experimental and would mostly benefit the world's poorest people, their creators have had difficulty securing substantive funding. If researchers succeed in addressing even one of the 14 identified global challenges, millions of lives could be saved.
How was this story's length set?
By Larry Baum

Phorn Hun
Phorn Hun never owned property. She lived in a thatched-roof house next to a pagoda in Cambodia. Even loan sharks wouldn't lend to her. But in 1998 she told ACLEDA Bank about her idea to start a noodle business, and the bank gave her a loan… of US$25. Such a small sum to start a business seems laughable, but this was no joke—this was "microcredit", designed for would-be entrepreneurs in poor areas. Mrs. Hun's business took off, and with her profits she bought land and built a better house, with wooden walls and a metal roof.
Millions of poor people have used microcredit to fund a new tool, a machine, or a shop in the marketplace, with surprising success. Studies in India, Kenya and the Philippines found that the average annual return on investments by microbusinesses ranged from 117 to 847 per cent. If they are so lucrative, why didn't these businesses start sooner? Lack of capital. Poor people either have no money to get started, or have to borrow from loan sharks who charge usurious rates that wipe out profits.
The UN named 2005 the International Year of Microcredit to highlight the potential of finance to lift people from poverty. On 7 November, representatives of 80 countries will meet in New York to discuss how to increase access to microfinance.
How was this story's length set?
---
By Larry Baum
On August 29, Hurricane Katrina damaged the Mississippi River delta region, flooding New Orleans.
How was this story's length set?
---